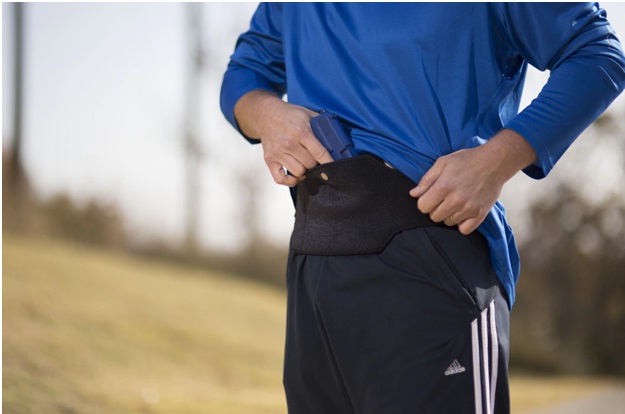 A few months back, we took a comprehensive look at belly band holsters, why they were valuable to some citizens that practice concealed carry for self-defense, and where some fell short of achieving their goals.
Ultimately, belly bands have become popular with some who carry handguns for self-defense, because they aim to strike a balance between concealment, comfort, practicality, and ease of access to the weapon. In this article, we're going to break down some of the benefits and drawbacks of conventional belly bands and then suggest a few superior alternatives.
Benefits of a belly band holster include:
●They can fit snugly against the body in a comfortable position
●Some of them fit tightly enough so that they cannot be detected under most clothes and do not give away the presence of a firearm
●They are convenient and can be easy to use
●They give you the ability to retain the firearm in a comfortable location that is easy to access
●Runners and other athletic individuals prefer them due to the ergonomics they can offer a person with an active lifestyle
While this suite of benefits makes belly bands seem like a good option to practically and safely carry your handgun, it's important to keep in mind that these traits only apply to some belly bands. Many of them are not designed or manufactured to exhibit these levels of performance, resulting in some of the following problems.
Typical belly band holsters, in reality, present several difficulties, including:
●Poor construction that leaves a portion of the handgun exposed and makes it possible to detect the firearm through your clothing.
●Thin fabric that makes it possible to access the trigger through the holster - this is completely unsafe
●Typical elastic belly bands do not secure the firearm adequately
●Typical elastic belly bands have a thin-walled construction that rolls down and becomes uncomfortable during the course of a day
●Typical elastic belly bands do not breathe and then tend to be sweaty and can actually be uncomfortable to wear
●With the exception of Pistol Wear holsters, all belly band style holsters wear-out quickly due to the frequent attaching/disconnecting of the Velcro-type fasteners used to secure the holsters
As you can see, if it is designed properly, there are many benefits to using a belly band holster. The design is very practical and useful. A carefully engineered belly band can be effectively used by both men and women. It can be comfortable while at the same time securing the gun and safeguarding discretion.
Pistol Wear has carefully and purposefully engineered several concealed carry holsters that resemble the belly band in form but go way beyond the typical belly band holster, bringing armed citizens the benefits of a belly band without the drawbacks. Pistol Wear products simply go way beyond expectations and redefine what belly band holsters should be.
To answer the question posed by the title of this article, the answer is that belly band designs can be a good choice for concealed carry when they are thoughtfully and carefully constructed.
To illustrate this, we'll take a look at one of our concealment holsters that is worn around your waist in the style of a belly band - the PT-ONE Concealment Holster.
This holster is available and well-suited for both right and left-handed individuals. It is constructed of premium, high-quality materials and is suitable both for compact and full-sized handguns, including models up to 9.5 inches in total length.
It secures the firearm in a pouch that has a rigid outer wall that protects the handgun and the trigger, in addition to preventing printing. It also has a separate compartment for a spare magazine. Unlike other belly band design holsters, this holster, and all Pistol Wear holsters, prevent the contents of the holster from contacting your skin and causing irritation. Like all Pistol Wear holsters, this holster is sized with a velcro style fastener but it is fastened and removed using snaps, thus securing a long life for the holster. The holster is also comfortable and breathable, with a perspiration barrier to minimize moisture contact with your firearm.
This holster is designed specifically to provide all of the utility of a belly band - comfort, security, ease of access, and discretion - while at the same time eliminating the issues of other belly bands on the market. For example, when it is properly worn and secured, it will not bounce or roll. This makes this holster useful not only for those who wish to wear a belly band but also for runners, joggers, and others with active lifestyles.
The PT-ONE holster is a great option for those who appreciate the carry position or the ergonomics of a comfortable belly band holster but who want to be free of some of the detriments of competitor's models. This model is suitable for larger framed individuals. Smaller framed persons, ladies or others interested in a smaller holster will want to consider other high performance models like our PT-2 Concealment Holster or our Lady Defender Concealment Holster
To learn more about how we make our holsters, to investigate other options, or to get our input, give us a call at 1-918-289-2976. We value our customers and want to guarantee satisfaction, so please reach out to us with any questions.