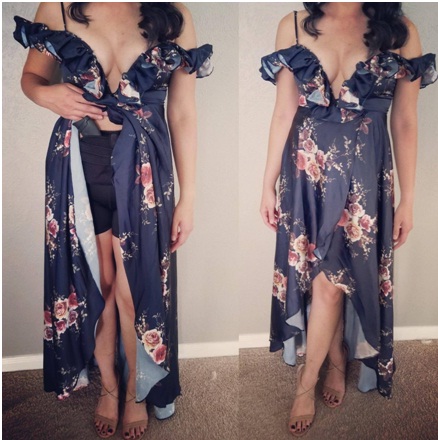 Although the times are changing month over month and year over year, there's no denying that the vast majority of shooting accessories, including holsters, have been designed with men in mind. The dimensions and ergonomics of most shooting accessories simply assume a male user. While historically it may be true that there has been more male participation in shooting sports, that demographic is shifting.
According to the NRA (and as indicated by a recent publication in America's 1st Freedom on the matter), gun ownership among women increased by 10% from 2005 to 2020. While this figure alone is not starkly compelling, it's the comparative increase. Female gun owners nearly doubled in number during the same period, rising to 23% by 2020 from 13% in 2005.
Figures like these, along with a growing number of women who are invested in self-defense, have heralded a change in the market for shooting accessories. Among the most practical needs has been the necessity of a well-designed women's gun holster for running - but this is far from the only accessory that has responded in kind to changing trends.
Nonetheless, for many years past, the market has been rife with designs created to attract attention - purses, concealed carry holsters, and more - that were intended to be practical. Unfortunately, some of these were centered more around aesthetics than around function.
Here's what we did to tackle some of these concerns and provide truly useful holsters for women who carry a gun for protection - some of which are more practical for running than others.
The Importance of Being Prepared
A state of preparedness is only truly a state of preparedness when you take no breaks from it - that defeats the purpose. For active-minded individuals, and that includes women, that means being prepared even when you're on the trail or at the gym.
That's why you bring water with you when you run. It's why you plan your route out and why so many conscious individuals run with a friend or at least tell a friend or a family member when you expect them back. It's all, in some measure or other, about being prepared and better equipped to handle the challenges of day-to-day living, even if the biggest challenge on the trail is a puddle that's bigger than normal due to recent rains.
When you're fortunate, these are the only obstacles you'll encounter in situations like these. However, life is rarely so cut and dry.
Running Hazards
When you head out on the trail, you're going to be dealing with a number of shifting conditions and a state of potentially compromised mental acuity that makes the necessity of preparedness all the more compelling. Every time you head out on the trail, you could be dealing with any or all of the following conditions:
●A rapidly changing environment: The very nature of running means that every few seconds your locale will be changing around you. While most situational awareness practices require you to pay very fine attention to your environment and to be attuned for changing cues, when you're running, this is very difficult to do. Every few seconds you'll be crossing a new section of street or trail, or even rounding a corner, bringing you into a new area at every turn.
●Potentially remote locations: Whether you're an urban runner that likes to get out at night or after work, or live away from centers of development and get out on the trail or in the woods, whenever you step off the treadmill and onto the ground, you're going to bring yourself through potentially remote locations.
●A distracted mindset: Whether or not you can maintain a level of very fine mental focus and attention to your surroundings is one thing, but there are plenty of runners who don't. Some actually welcome distractions like music that further disconnect them from their surroundings. While there's nothing wrong with it, it will make it harder for you to pay close attention to your changing setting. That underscores the necessity of preparedness.
●Hazardous conditions and wildlife: While carrying a firearm for self-protection will not save you from the dangers of a potholed road or a slippery slope, it will protect you from factors that will actively try to harm you rather than passively. In addition to the obvious use of self-defense against human perpetrators, some areas of the country bring runners into contact with potentially hazardous wildlife such as mountain lions and bears.
These items represent nothing more than a quick glimpse into some of the adverse conditions that runners may come across while they're engaged in their sport or in other activities. However, these alone present a compelling case in favor of concealed carry for self-defense.
Naturally, to do so, you need to be prepared with equipment that works for your purposes, which, in this case, would be a women's gun holster for running. For our part, here are some of the designs we've created to better suit the varying needs of our customers.
The PT-2 Concealment Holster
While we didn't specifically design the PT-2 Concealment Holster as a women's gun holster for running, it is well designed for running, jogging, biking, and other activities, and it happens to be well designed for women and smaller-framed individuals.
The PT-2, like the larger PT-ONE, is a holster that, while not specifically designed for women, has been designed for those who live an active lifestyle. It is bounce-resistant, comfortable, ergonomic, and can be worn anywhere around the waist, either inside or outside the waistband, depending on the needs of the person carrying it.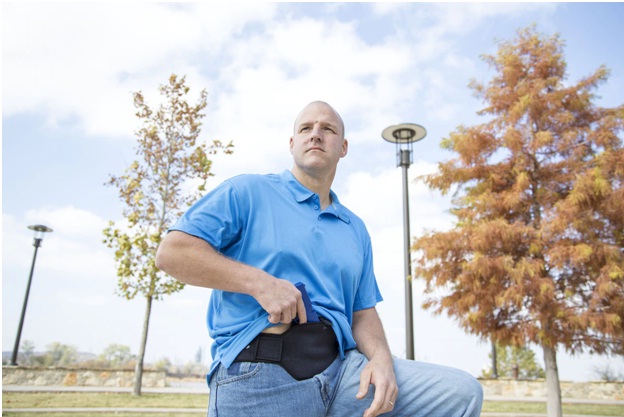 Issues Addressed and Innovative Features
In order to help defense-minded individuals be better prepared in the face of some of the conditions of the trail, we designed our PT-series of concealment holsters to address a few issues that are commonly encountered in other concealment holsters that are supposedly designed for running and other fitness activities.
●Bouncing, rolling, flopping, and shifting: An unfortunate reality of many holsters that have previously been marketed as designed for running is that they simply don't stay where they're supposed to on the body. Even holsters that are otherwise comfortable during the normal course of a day will bounce, roll, flop or shift on the body when you run or jog. For one thing, this is uncomfortable, and for another, it gives away the location of the holster on your body. Our PT-2 (as well as our PT-ONE) will not bounce, roll, flop or shift on the body when it is adjusted and worn properly.
●Printing: Another issue with many holsters is that it's difficult to balance comfort, form, and function without printing the firearm. There are many slim holsters out there that don't print handguns but would likely not be practical for running or other fitness activities. All of the concealment holsters we have designed and which we sell here at Pistol Wear, including those that are not particularly suitable for running, are made with slim contours so that they do not print. In addition, the PT-series of holsters, along with the Lady Defender Concealment Holster which we will explore below, contain a rigid outer wall within the compartment that holds the firearm. This protects the firearm and obscures it as well.
●Comfort: Some holsters that offer excellent security and retention, like many Kydex Holsters that are custom made for specific lines of handguns, are not particularly comfortable. Run with one in your waistband and you might well call it decidedly uncomfortable. Our PT-series of concealment holsters are designed from high-quality materials and are surprisingly comfortable - just see the reviews on our product page at the link above.
The PT-2 may not have been specifically designed for women, but it is ideal for smaller framed individuals and accommodates a number of popular compact handguns.
Here at Pistol Wear, however, we're not just at the forefront of design for athletic-capable concealment holsters. We're also innovators in other areas - just see the Lady Defender Concealment Holster as proof.
The Lady Defender Concealment Holster
While the Lady Defender Concealment Holster was not specially designed as a holster for running, it was designed with the needs and tastes of women shooters in mind and it works very well for walking or riding a bicycle. If you're in search of a women's gun holster for running, the MINI Trump Card holster is similar to the Lady Defender, but it is designed for very small handguns only. For women that carry a larger firearm when running, the PT-2 will be required. Between the two of them, you'll find a suite of features runners can appreciate.
Previously, holsters that were supposedly designed for women featured thin and inadequate construction. Some of these were styled after belly bands and featured thin fabric or lace construction. While these had a pleasant visual appeal, they were prone to a host of errors.
For one thing, they would not stay in place on the body, especially during strenuous exercise or movement. For another, the thin fabrics from which they were constructed tended to print the firearm; in particularly egregious cases their construction might even allow access to the trigger through the fabric.
With these issues - and others - in mind, we set out to design a better holster for women, and we did, with the Lady Defender.
Issues Addressed and Innovative Features
When we designed the Lady Defender Concealment Holster, we set out to address some of the following issues with current concealment holsters, updating and enhancing our model along the way.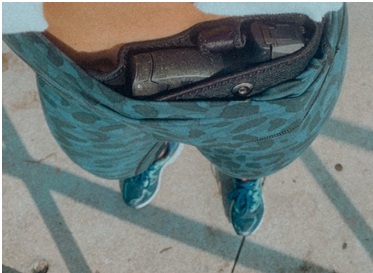 ●Shifting on the body: Shifting on the body is a concern for all practitioners of concealed carry, and it's something we solved in the design of this concealment holster. The Lady Defender is designed for waist carry but it can also be worn around the torso higher on the body such as under the arm. It also features an additional support strap, and when secured and adjusted properly, will not shift on your body throughout the course of a day.
●Eliminating access to the trigger: The Lady Defender, like our other concealment holsters, has a rigid outer wall that protects the handgun, helps to eliminate printing, and entirely prevents incidental contact with the trigger.
●Enhancing comfort: Some concealment holsters simply are not comfortable to wear or don't balance well on the body, especially when weighed down with a loaded handgun and a spare mag. The Lady Defender, like our other concealment holsters, is constructed from high-quality materials and premium workmanship for superior comfort.
●Compatibility with a larger range of clothing: Going along with comfort and practicality, this concealment holster is compatible with quite a range of clothing. It's ideal for professional and casual attire, but you can also wear it with athletic apparel as well.
●Balancing aesthetics and functionality: Completing the entire design, we added subtle lacing to compliment the holster's overall aesthetics, which is a nice finishing touch.
If you're looking for a holster that was specifically designed for ladies, you won't be able to go wrong with the Lady Defender. It's purposefully suited to everyday carry and brisk walking or cycling activities. Between this and the PT-2, you'll have all your bases covered.
Are They Belly Bands? Discover the Difference
One thing we want to address is the term belly band or belly band holster, which is a pretty common design, both in concealment holsters for women as well as in holsters designed for running.
Some of our holsters may appear like traditional belly bands but they are designed to provide improved safety, better access, and a more comfortable, secure fit. To learn more about any of them, visit the links above or reach out to us at 1-918-289-2976.
Pair Them with Accessories
Before you make a decision on a given holster, investigate the holster accessories we have designed for them, consider some of the add-ons you can find at the link above. We provide extra magazine pouches as well as belt extensions - so you can get a better fit and incorporate the functionality you need into the designs of our holsters.
Reach Out to Us
While you're researching the function and design of our innovative concealment holsters, if you have any questions, please direct them to us. We enjoy hearing from our customers and we would also be more than glad to clear up any of your questions. You can reach us at 1-918-289-2976, but you can also reach us at support@pistolwear.com