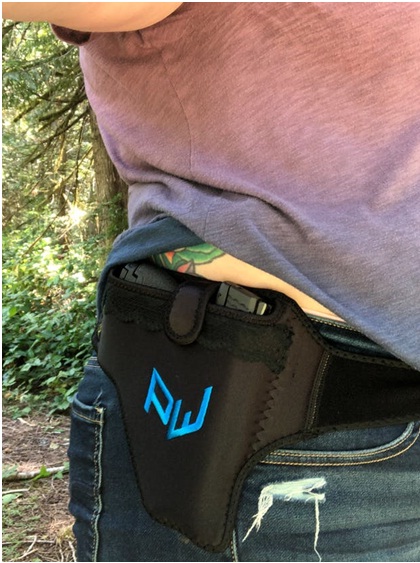 For anyone reading this that has simply had enough of holsters that look nice and make big promises but fail to deliver, we have what you're looking for. Our Lady Defender Concealment Holster is the first concealment holster specifically designed for ladies. After careful insight and consideration, we've developed a concealed carry holster for women with looks and function that finally match each other.
●High-quality materials - Our Lady Defender Concealment Holster is constructed with premium, high-quality materials and represents an uncommon, uncompromising degree of quality.
●Secure fit - When worn properly, the holster provides a secure fit and safely retains your firearm. It also incorporates a retention strap to better secure the handgun in the holster.
●Enhanced comfort - Some concealed carry holsters look comfortable but have poor ergonomics or are made from thin, flimsy fabric. The Lady Defender is soft and cushioned for extra comfort without giving up any functionality.
●Ideally suited for casual and business attire - The Lady Defender is ideal for use with casual and professional business attire but is very versatile. You can also wear it with athletic clothing to support an active lifestyle.
●Non-printing - When worn properly and secured as intended, the Lady Defender will neither print itself nor the firearm. It is compatible with a wide range of clothing and ensures the concealment that is so critical to safety.
●Fits subcompact handguns - The Lady Defender is conveniently sized to accept a number of popular subcompact handguns such as the Smith & Wesson M&P Shield, Sig Sauer P365, Springfield Armory XDS, and several popular Glock handguns. While it is well designed for smaller, shorter barreled handguns, we offer other holsters that are well designed to accommodate larger handguns.
●The firearm does not contact skin - Some holsters allow the firearms to contact your skin, which feels cold and uncomfortable. The Lady Defender has been purposefully designed to prevent this from occurring. It is also a feature you will find in many of our other holsters.
●Extra protection for the firearm - Like all of our concealment holsters, the Lady Defender contains a rigid outer wall that serves important functions. It helps to eliminate printing, it prevents access to the trigger while the firearm is holstered, and it adds another degree of protection to the handgun.
●Comes with a breathable belt and an integrated perspiration barrier - The more layers of clothing and accessories you wear, the more potential there is to be uncomfortable, especially in the heat. The Lady Defender incorporates a breathable belt that will keep you more comfortable along with a perspiration barrier to keep sweat off your handgun.
●Can accommodate extra magazine pouches and other accessories - The Lady Defender Concealment Holster itself does not contain an additional magazine pouch, but you can find these in our collection of accessories. This option adds additional functionality without sacrificing comfort or concealability.
●Wear it how you choose - The Lady Defender can be worn comfortably around your waist or worn higher up on your torso. It even comes with a multi-location, adjustable support strap to make the fit more comfortable and secure.
●Can be extended - The Lady Defender is designed to fit waists of up to 46 inches, but we also offer belt extensions for our holsters that can be found in our collection of accessories.
●Thoughtfully accented with subtle lacing - The one thing that differentiates our concealed carry holster for women from all of the rest is the artful, thoughtful balance between form and function. Other producers place an emphasis on appearance; we provided subtle, feminine lacing, but never compromise on functionality. This is a purposefully-designed holster with the needs of women in mind that won't let you down.
If you're done with holsters that look nice but are impractical, check out our Lady Defender Concealment Holster. It incorporates functional features and performance capabilities that are found in our other concealment holsters, like the PT-2 concealment holster which represents a practical improvement over traditional belly bands. It fits more securely, will not bounce, roll or shift, and is much safer.
To learn more about this unique concealed carry holster for women, or about any of the other products we offer, please feel free to call us at 1-918-289-2976.